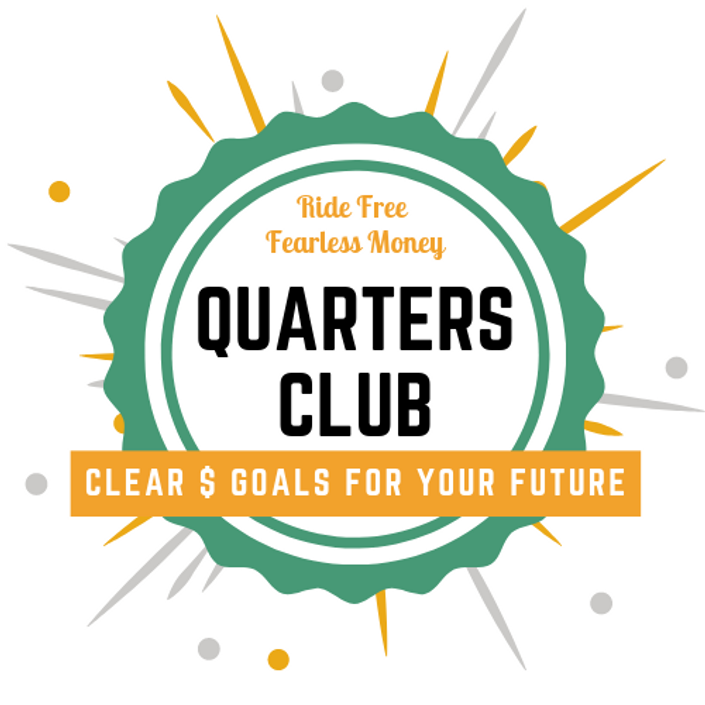 Quarters Club
Set clear money goals for your future, achieve them with meetups, community, and a framework!
Upcoming Club Meet-ups!
Quarter 3, 2020 > video call Tuesday 8/4 at 8p Eastern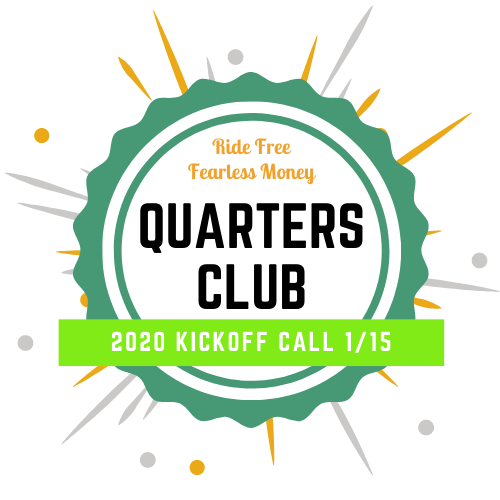 Good folks! Ever feel like you're…
...not "doing money right"?
...confused about your next step with your finances?
...unmotivated to sign up for that savings account / business bank account / work retirement plan?
...full of money questions you want to get answers to?
...curious about how other people handle their money?
...weirded out by how most people talk about money (or avoid talking about it)?
Want to:
… have like-minded, non-judgemental buddies in your quest to do something positive for your financial future?
... get expert guidance and community-tested recommendations?
... have some structure, clarity, and accountability as you move towards your financial goals?
… get to do it all in a rad, progressive, non-icky environment full of everyone from weirdo freelancers to focused career folks?
You should join QUARTERS CLUB!!!
You'll get: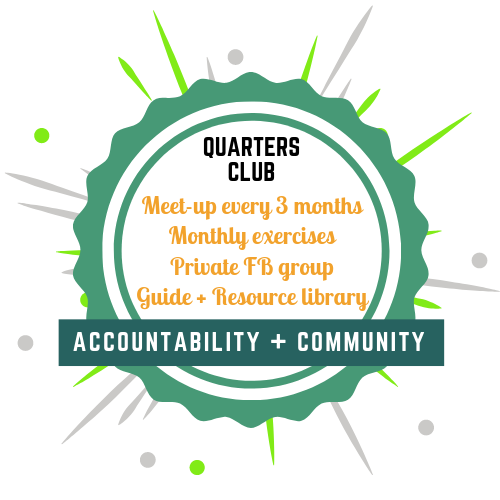 To join a video meetup every three months to share your progress and ask questions
A framework to define, decide, and step through your financial steps
An optional accountabilibuddy
A secret facebook group to ask questions and cheer each other on
Monthly exercises
Monthly Ask Me Anything time
A massive resource library full of trainings and templates
Discounts on Ride Free courses, trainings, and coaching
A BONUS chapter of Money Hacks, my forthcoming book of strategies for artists, freelancers, weirdos, and the rest of us to thrive
All for less than the cost of your favorite online media subscription or a fancy drink.
Cost
Quarters Club is a mere $24/quarter -- that's $8/mo.
No-cost scholarships are available for people who are low-income, just reach out.
Your Instructor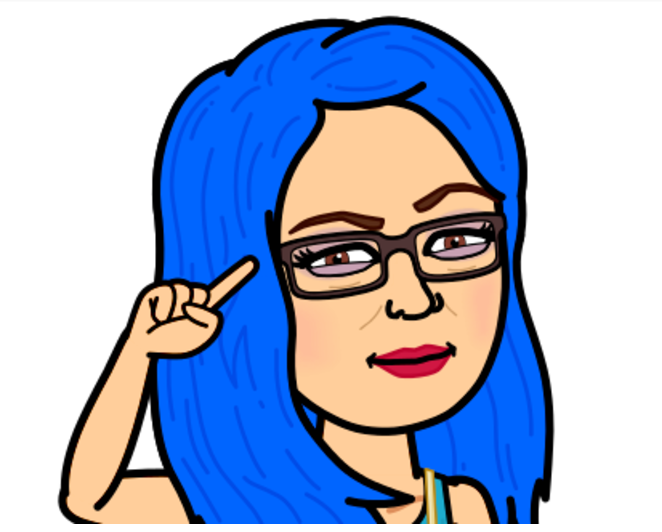 Hadassah Damien is a Brooklyn-based artist, activist, small-business owner, and creator of the iconoclastic blog and finance classes Ride Free Fearless Money. Her mission is to stabilize creative communities by empowering folks' relationship to their money, and to help people with money hacks. Read more: http://www.ridefreefearlessmoney.com
Hadassah Damien supports individuals, partners, freelancers/small business owners, and collectives to create actionable financial plans through writing, online courses, 1:1 coaching sessions, and workshops. Real talk, honest compassion, hustle mindset, and intersectional needs all come into the equation, with excellent outcomes.
From people who get motivated and save their first $1,000, to people who pay off their credit cards; from freelancers who learn how to get $3,000 tax refunds to couples who create their financial path together, her clients rave:
"Her working class femme money genius has been an invaluable tool to help me figure out how to build my stability and start saving for retirement while meeting my goals and enjoying my life."

"This course was a great way to get the support I needed to get my shit together, all in a way that aligns with my values, so thank you!"

"I can't think of a better form of self-care than to give your financial life the attention it deserves through Ride Free Fearless Money."
Ms. Damien is an educator, award-winning artist, civic technologist, and iconoclast who was raised working-class in Western NY. She puts the values she inherited both into practice and under microscopes in her progressive work. She has an MA from the CUNY Graduate Center, and an Honors BA from the University of Toronto.
And yes, she is a motorcyclist, which inspired the name Ride Free Fearless Money. When we ride, we do a LOT of work to make sure we're ready -- then we go enjoy the HELL out of the experience. Our finances can be handled well with a similar attitude: do the work, honor the work, and then go live your life!
Course Curriculum
Welcome & Orientation
Available in days
days after you enroll
Templates & Calculators
Available in days
days after you enroll
Frequently Asked Questions
When does the Club start and finish?
Quarters Club is an ongoing group, with meetings every three months starting 2/28/19 [NYC] and 3/3/19 [video], ongoing facebook group convos, and 24-hour access to the exercises, resources, and workshops here in the library.
How long do I have access to the Club?
As long as you're a monthly subscriber, you have access to everything.
What if I am unhappy with Quarters Club?
If it's not suiting you, I understand that it's not for everyone. No hard feelings -- you can unsubscribe at any time.
I don't know my schedule - are the group video meetings recorded?
The group video meetings are NOT recorded, so that participants are comfortable to share any personal details they want to without having to worry. However, you are always welcome and encouraged to post questions to the facebook group, or comment on a module here in the Library to spur a discussion or get answers and ideas.