Ready to know how to control your finances, hook up the savings, and reduce your $$$ stress? Come and Calm That ACK!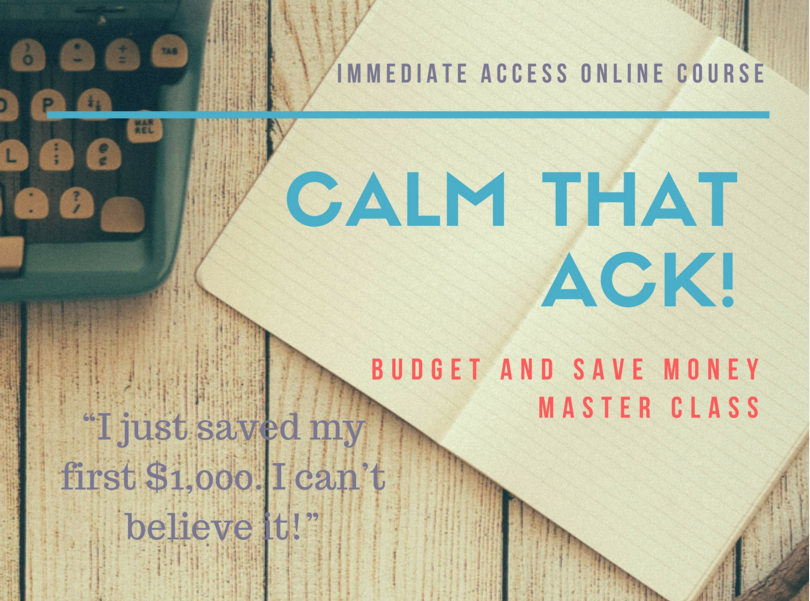 For those who are ready to get a grip, Calm That ACK! is a two-hour+ self-guided course in dealing with money, setting goals you care about & factoring in debt — you'll get excited to unf*ck your budget and freakin' save while you manage lots of priorities.
From a literal walk through on how to make a spending plan, to punk pep-talk frameworks, to loan hacks, a explanation of long term planning and more this class is JAMMED with easy-to-follow mega tricks via bite-size videos and handouts.
As a matter of fact, we start with the hardest thing first: an exercise designed to help you breathe deep and get your mental space ready to deal. Literally, we will calm your ACK in this class.
This a non-judgmental, positive, welcoming place to bring ANY financial experiences for folks across class backgrounds.
This class is FREAKIN AWESOME and I'm delighted to teach it from a progressive, no-judgement, no-wealth-worship, all real talk and useful tools perspective.
Scroll down for a preview or to sign up today.
"Oh my god, thank you for helping me change my life." -- A.

"The last webinar of yours that I took helped me a lot – I went from auto-saving $10 a week to $35 a week, and now I have $1000 in savings!! My all time best so far." — RA

"I am so excited about having taken this step, and I'm noticing how much more aware and attentive I am to the money I'm spending every day. This course was a great way to get the support I needed to get my shit together, all in a way that aligns with my values, so thank you thank you thank you!" — T.
What you get is designed to help all kinds of learners - that includes you.
Check out the list of modules below -- once you sign up, you can jump in exactly where you need guidance or follow a framework in order.
The 31-page guided handout and workbook is a great resource to explain what to do, and you'll get a motivational email every 5 days for a month to keep you on track! BOOM -- you are doing this.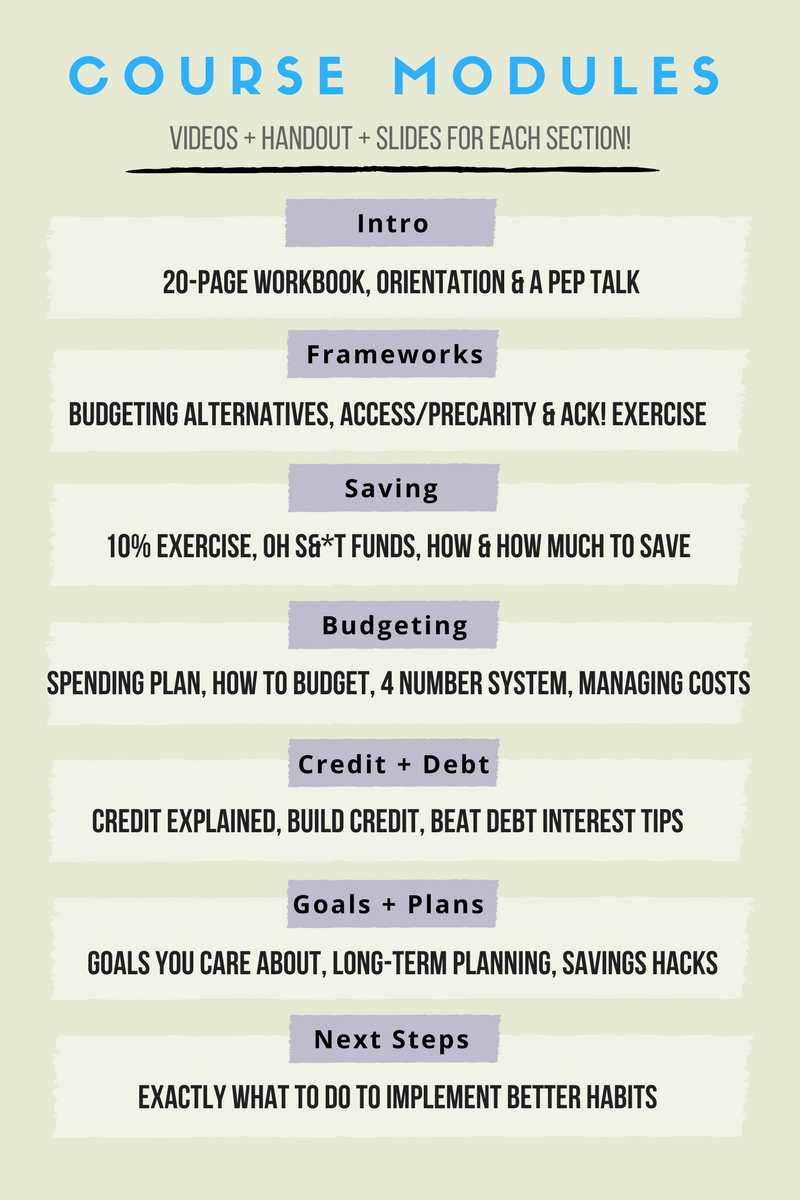 The steps and tools you get are sharp, clear, and awesome = learn today. Scroll down to sign up!
Here's what's about to happen with your next 60 bucks otherwise:
You'll go out to dinner – and it's gone.
You'll pay off debt, not sure if you're being strategic
You'll put it into saving but then buy crap with it and - poof.
Here's what happens when you sign up and apply even a fraction of what you learn:
If you apply any of this knowledge and make – or save – an extra $10/mo – that's $120 in your pocket. Class paid for x2.
If you apply any of this knowledge and make – or save – an extra $10/week – that's $520 in your pocket. Class paid x 11.
If you apply any of this knowledge and make – or save – an extra $10/day – that's $3,650 in your pocket. Class paid x 90.
If you're ready to put a little time into getting a LOT of BIG change - let's do this!